Cycling in Chianti: Siena countryside
Chianti is a very large portion of Tuscany, famous for its wine, its oil, for its gentle landscape, of rolling hills and vineyards, considered an example of the perfect coexistence and integration between man and nature. Cycling in Chianti is a pleasure, precisely for this. Cycling in Chianti will take you through fantastic places, harmonious landscapes always bathed by sun, well-preserved villages rich in cultural, artistic and culinary traditions. Cycling in Chianti is also easy for almost everyone, as its climbs and its descents are sweet and easy to ride, and even person not use to cycling can easily manage this kind of tracks. The oldest part of Chianti is the one that stands between the towns of Castellina, Radda, Gaiole and Greve in Chianti. Those are the typical villages of the Siena countryside, with castles (there are so many in this area) beautiful churches, squares and palaces. For example, in the area you should visit the famous Market Square of Greve, the Castle of Spaltenna, the Meleto Castle, the Castle di Tornano, the Pieve di San Polo in Rosso, the Pieve di San Donato a Mugnana, the Castle Mugnana, and many more, that you will discover cycling in Chianti.
Cycling in Chianti: the Florentine area
The Chianti area anyway includes many other municipalities in addition to those, and all of them are an ideal place for cycling. You have the area of the Florentine hills, between the towns of Tavarnelle, San Casciano, Impruneta, Galluzzo and Scandicci, with its art sites, its churches and its, farms where you can taste cheese, wine and oil, is a perfect place for cycling; then you have the Val di Sieve, from Rufina to Ponteassieve, or as well the area of Montalbano, between Empoli, Pistoia and Florence, with towns such as Vinci, where you can visit the Museum of Leonardo and to stop eating during your cycling tour in Chianti. These areas are rich in landscapes and cultural heritages. Cycling in Chianti will be a pleasure for you.
Cycling between the gold rolling hills of Chianti: tracks from another world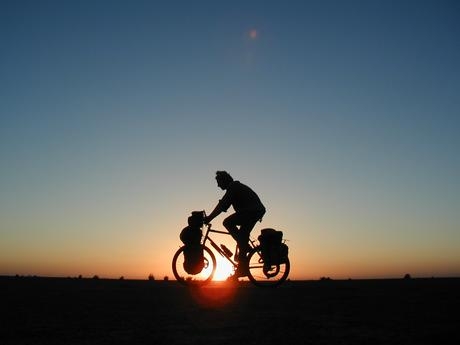 Cycling in Chianti: bicycle routes
There are many possible routes to cycling in Chianti. Among these we recommend the route from Florence to Siena, passing through the Certosa of Florence, the old medieval town of San Casciano and Tavarnelle, and Colle Val d'Elsa, Abbadia Isola, Monteriggioni and finally Siena. Or you can as well cross the Chianti cycling through the beautiful road "Volterrana", starting from Florence towards Cerbaia, Montespertoli, Castel Fiorentino, and then continuing to Gambassi Terme and San Gimignano. The solutions to cycling in Chianti are many and all are so beautiful. You can also call one of the tour operators engaged in the bike rental that will offer you assistance, guides, personal trainers, equipment, ideas and suggestions to cycling in Chianti in relax and fun.
Cycling Chianti 2,9%
Cycling 4,2%
Chianti 4,5%
Tags: cicloturismo, chianti, toscana, vacanze, Tuscany, bike, tourism, natura ambiente