Beaches of Versilia: beach establishments, facilities, excellent accommodation.
In Tuscany there are the northern beaches called "historical", the beaches of Tuscany that are the most prestigious, offering all sorts of comfort and services. There are also the beaches of Versilia: 20 kilometres of these beaches, which are very large, ideal for those wanting a holiday with every kind of comfort and facility. Forte dei Marmi beach is the most sophisticated of These beaches, visited by VIPs and where every tourist's need can be satisfied: there are exclusive restaurants, beach establishments with spacious tents with all kinds of comfort on the beach (tables, sofas, beds, sports field, swimming pool, and a fully functional gym.
Viareggio, which is a few miles to the south, offers a very deep beach which includes miles of beach resorts with standard of good and famous promenade, it's full of shops and back coffee tricks. Many nightclubs are famous throughout Italy which arose from the 60's and still very busy making the area very lively nightlife.
The beaches of the central region of Tuscany: the Etruscan Coast and Elba
In the central part of the coast of Tuscany, the sea becomes more crystalline and there are smaller and less crowded beaches there. Archipelago's beaches are small pearls, they are smaller and come with a wonderful sea, the best of Tuscany is ideal for those who love
snorkelling. The island of Elba beaches "Innamorata", "Barabarca" or "Fetovaia" are little gems which feature good facilities and where nature is the true protagonist; in Campo nell'Elba there is an extensive beach that is suitable for families which also has a beautiful sea.
In the central part of the coast of Tuscany, called "the Etruscan Coast "the most popular beaches are: "Castiglioncello", with very exclusive quality establishments, "Vada", where there are also many miles of free beaches with white sand which is ideal for a fast tan,and it's a place with many young people, and the famous beach of "San Vincenzo", a very prestigious and modern beach with golden sand.
Just over 250 kilometres of the coastline of Tuscany there are many kinds of beaches. The quality of services everywhere are at a very good level, while the scenery is very beautiful, it is better in the south-central part of the beaches.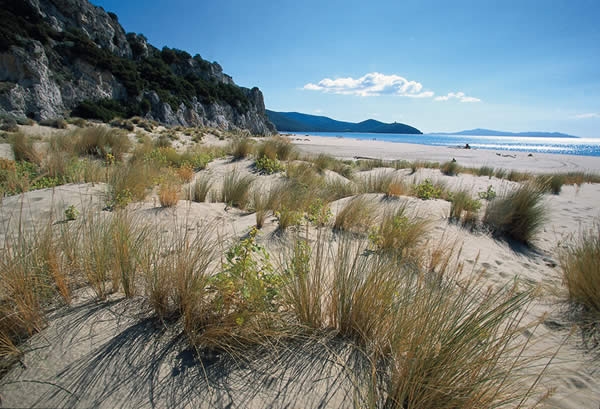 Southern Tuscany: the Maremma beaches, rugged but comfortable
The southern part of the Tuscan coast offers a wide choice of beaches and many kilometres of beaches which are in contact with a wild and untouched nature. "Castiglione della Pescaia" is the most prestigious town in this part of Tuscany with its beautiful beach with a very clear crystal blue sea and excellent facilities around the picturesque village which are dominated by an imposing medieval castle surrounded by walls.
Not far from this location is the most attractive beach in Tuscany: "Cala Violina". To reach this paradise so named for its magnificent sound of the sand when you step on it, you must walk a beautiful hiking trail about 2 kilometres into the woods. It 's a very popular beach today without beach establishments, ideal for those who love the spectacle of nature.
Farther down south is the pleasant beach of "Marina di Grosseto", with newly built modern beach facilities ideal for families, or for those who love peace and nature, in the north of the resort over (10 kilometres) of beach and behind a huge pine forest where large perfectly intact enchanting scents of nature are the protagonists.
Farther south lies in the beautiful scenery of "Argentario", the beautiful beach of Feniglia, ideal for families for its shallow and very warm and clear waters, rich with lots of colourful fish.
Tags: Mare, Seaside, Toscana, Tuscany, Spiaggie, Beaches, Holidays, Vacanze, mare