Horse riding is an ancient tradition. Today riding a horse in Tuscany you can discover fascinating routes and relive the excitement of an ancient time.
Horse riding has always been one of the typical activities of man. The horse has always been a faithful aid for travelling, moving, and working. Horse is a noble ally. Horse riding, today is even a sports, but anyway is possible to enjoy it also in a more amateur way. You will be excited of being day by day more and more in tune with your horse, finding and establishing a relationship of trust with him. Riding a horse in Tuscany is an easy way to explore the countryside, along path at the edge of grain fields or vineyards, or crossing beautiful leafy woods and passing through villages that otherwise you would never visit, small towns with an ancient history. You can rest under the shadow of the many castles in Tuscany, as well enjoying the Tuscan countryside with your horse. In Tuscany there are many centres that offer the possibility to ride a horse, and you can take lessons, have the help of a guide and an instructor, choosing the horse that best suits you. Riding a horse in Tuscany you will discover many hiking trails, as well follow the instructors with a wide range of itineraries both for beginners and experts. There are trips of a few hours of duration, as well trails that last an entire weekend. You will be hosted in ancient villages and castles, totally restructured, charming and comfortable residences.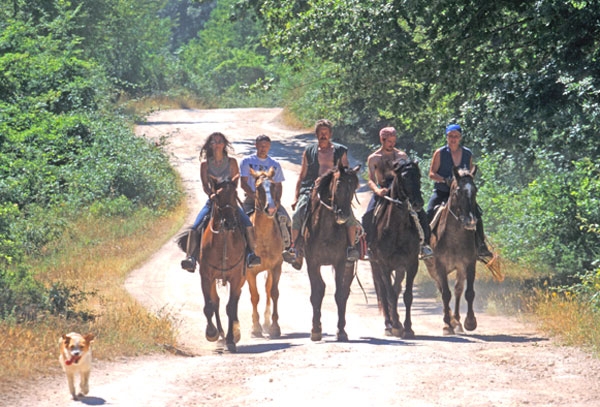 Horseback in Tuscany: riding between nature and art
Riding a horse in Tuscany you will discover a new way of vacationing, combining your passion for horse-riding with Tuscany, its landscape, its beauty and its art.
The holiday packages for riding a horse in Tuscany generally last for seven nights, the minimum time to get some confidence with the animal if you are not an experienced rider and, obviously, seven days are the minimum time to enjoy Tuscany and its beauties. Within a week, you will have five days to ride your horse, with six or seven classes lasting from an hour and a half up to two hours. Alternatively, you can choose short holiday, last only a weekend, riding over a prefixed route and stop off overnight. All the accommodations will be set in restored medieval houses, completely adapted to the needs of modern tourists, obviously immersed in the Tuscan countryside as scenario. Riding a horse in Tuscany is a unique experience to discover an ancient tradition, in one of the most beautiful land in the world, enjoying the pleasures that Tuscany will offer with the local cuisine specialties, excellent wines and typical products. You will be always accompanied by professional guides that will make your vacation an unforgettable experience. Riding a horse in Tuscany in the Chianti region or in the Crete Senese, as well in Mugello or in the mountainous region of Garfagnana and Lunigiana, will be a delightful. Otherwise you can choose to get riding a horse in Tuscany in Maremma, among "Butteri", Tuscany's famous cowboy. Horse & Tuscany are a winning combination.

Tags: cavallo, Toscana, sport vacanze