Tuscan has often lent its spaces, its squares, monuments to the film industry: Tuscan film locations are now worldwide famous
There are numerous movies shot in Tuscan film locations. Tuscany has, in fact, some of the most beautiful and idyllic setting, between medieval villages and unspoilt countryside landscapes, with large filed of olive trees and vineyards. Tuscan film locations have been populated by creature of all genres, actors and actress from the entire world, to create films of all kinds, from comedy to drama, passing through historic or fantastic movies. In addition to Italian directors, Tuscany, among all the locations, has always especially attracted foreign directors that love Tuscany and its beauty. Movies shot in Tuscan film locations collected awards of all types, and have been appreciated throughout the world spreading the beauty of this land.
Among the Tuscan film locations one of the most popular is undoubtedly Florence
Florence can be watch in many films: from the neorealist films of Lizzani, as with his "Chronicle of Poor Lovers", to "Tea with Mussolini", a masterpieces by Franco Zeffirelli, as well in movies and comedies such the ones shot by the Tuscan director Leonardo Pieraccioni, or the famous saga of "Amici miei" by Mario Monicelli, in which all the three films are shot in Tuscan film locations and more specifically in Florence. Internationally, Florence has been often selected for blockbusters, as "Hannibal" by Ridley Scott, the following of the "Silence of the Lambs", with some scenes shot in Palazzo Vecchio in the centre of the city. Among the movies shot in Tuscan film locations, we have to remember also "Room with a View," from the novel of Morgan Foster, winner of two Oscars, by the director James Ivory and with Helena Bonham Carter in the cast. Florence was recently chosen as location of the Kiarostami's film "Copia Conforme".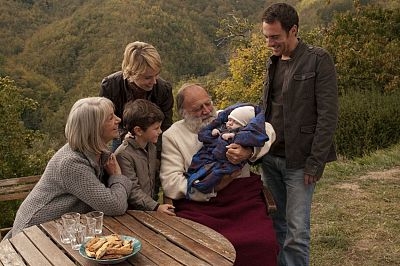 Tuscany: a never ending film
A perfect Tuscan film locations, is "Chianti", in all its parts, from Arezzo to Siena
Chianti with its unspoilt countryside hosted numerous films, including the recently successful "Under the Tuscan Sun" by Audrey Wells, filmed between Cortona and Sansepolcro, which brought the beauty of Tuscany all around the world. In Cortona and Arezzo was also filmed the Oscar winning film of Roberto Benigni, "Life is beautiful". Tuscan film locations have also hosted the filming of "the Gladiator" by Ridley Scott with Russell Crow. Chianti is a perfect location, and it was also choose by Bernardo Bertolucci for its "Stealing Beauty" with Liv Tyler, where the young girl comes in the Tuscan countryside to discover the identity of her father. Often Tuscan film locations are small medieval towns which are anyway perfect for recreating historic or fantastic scenarios. Recently, for example, Montepulciano has been chosen as the perfect location for the "New Moon", belonging to the cycle known as "Twilight", including vampires, werewolves and gothic scenery. Many of the films shot in Tuscan films locations have won Oscar awards and among them stands the "English Patient" by Anthony Minghella in 1996, filmed between Arezzo and Siena, winner of nine Oscars. Even the American director Spike Lee has chosen Tuscan film locations for one of his films: the dramatic "Miracle of St. Anna" shot in a Sant'Anna of Stazzena and in Versilia. A more comic page is the one regarding Superman: he also has chosen to come in Tuscany, but to straighten the Leaning Tower of Pisa. Tuscan film locations: from blockbuster to independent cinema a way to express the love that we all prove for Tuscany.