Autumn vacation in Tuscany: in colourful and lively land
Autumn vacation in Tuscany allows you to live the magic and the melancholy season that is autumn, between days blessed by a hot warm sun, and days crossed by lonely clouds. Autumn vacation in Tuscany, as the summer flows away and the winter comes closely, has an incredible beauty: the forests are tinged with a thousand of different colours, creating a brightly coloured mosaic of leaves decorating countryside. The forests of the Mugello, the Lunigiana, Garfagnana and Casentino will be transformed in paintings from the yellow and red tonalities.
Tuscany in autumn is like a colour palette with which paint your vacations
Autumn vacation in Tuscany: a time of wine and old traditions that still lives
Among all the activities that take place in Tuscany during the autumn, without doubt the most important is the wine harvest or vintage: a true ritual. During your autumn vacation in Tuscany you can assist or participate to vintage, traditionally made in September. After, in November, take place the "New wine festival" during which you can taste the sweet wine, called "mosto", a very sweet beverage because still no fermented. The new wine festivals take hold from November 6 up to December, a month full of celebrations and events among all the Tuscany towns, from Chianti up to the Tuscany Coast, from Mugello to Lunignana. Vacation between wine and traditions.
Autumn vacation in Tuscany: time of festivals and markets
Autumn vacation in Tuscany offer a lots of events related to wine, but also to a large number of products, typical of autumn season, as chestnuts, mushrooms and sausages.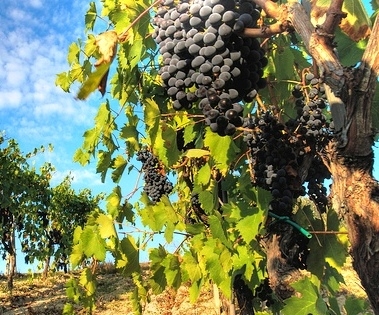 During autumn vacation in Tuscany you can therefore participate to the Festival of Chestnuts, as the one of Roccastrada in Grosseto, or the "Festival of thrush" (a type of bird) in Montalcino near Siena, of the "Festival della Schiacciata" (a special salad cake typical of Tuscany) in Vaglia near Florence, the "Festival of Mushroom and White Truffle" of San Miniato near Pisa and the list could goes on, demonstrating the richness of life in Tuscany during autumn, between old traditions, festivals and local products. In fact, during autumn vacation in Tuscany, you can taste the typical autumn products, as the "Castagnaccio", a cake made with chestnut flour, and the "Schiacciata with grapes". Do not underestimate also that during autumn in Tuscany there are less tourists, prices for vacations are lower, and you will be able to enjoy in peace and relax all the artworks of this land. Museums are always open and you will be able to admire their collections quietly and slowly, as artworks must be watch. Autumn vacation in Tuscany: among its ancient and modern beauties.