Sea of Maremma
It seems – in Italian – a pun, or an oxymoron, to those who believe Maremma to be a swamp or the wildest countryland in Tuscany, but the visitor of this land could not help to tread on these beaches: almost 160 km where you can find literally everything: from vip corners to the most authentic and wild sea.
Tyrrhenian coast of Italy is that of a limpid and bright sea: the sea of Maremma, the Mediterranean mouth of Tuscany
In Maremma one of the cleaner sea in Italy
Glistening in an unpolluted nature, the sea of Maremma looms like a mirage among the dark pine-woods: one who is fond of trekking and has just left behind the paths of Uccellina Park, will restore himself splendidly into this fresh and maternal sea, supplying as well a thousand other possibilities of water and sport activities.
To start, renting sailing or motor boats, or even wind-surf boards or yachts to visit the beautiful harbors on the coast or the high sea. The passionate will practice water-ski, sailing, diving (numerous are the diving centers). Lessons for newcomers or dilettanti are at disposal.

A Dream Geography: Sea of Maremma
Sea, however, is not made just for body: the spirit too will enjoy its many facets. An ideal itinerary along the sea will maybe start from Capalbio and continue towards Ansedonia, ancient Etruscan place, where it's still extant – a really breathtaking show – the renown Tagliata, a long channel,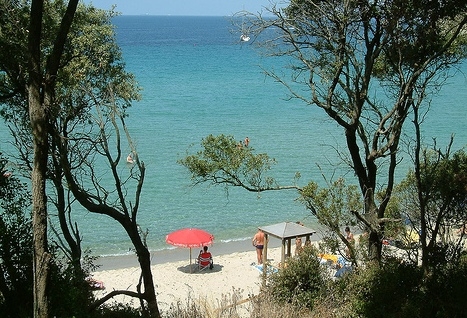 the fine work of Roman (not Etruscan) engineers, which had to stop the progress of the sea, and which is still today the view-point of a romantic panorama.
Not far is the Roman colony of Cosa, whose charming ruins you can tread on to sea Roman villas, roads, houses, temples.
Our itinerary will go on to Giannutri Island, with its gorgeous sea-beds, or Giglio and Montecristo islands, goals aspired to for their natural beauty; but, not to leave the coast, we can choose to tread along the Argentario: in the past it was the place of Spanish garrisons, and now it's the landscape of great beaches (Giannella, Feniglia) and wonderful mariners' borgos where time stopped: Orbetello Talamone, Porto Ercole (Caravaggio died here), Porto Santo Stefano: take a stop you too, as did time, and taste some exquisite fish meals.
In fine, here we are at Marina di Albarese, at Marina di Grosseto, at Castiglion della Pescaia, at Punta Ala and Follonica, with the more beautiful beaches in Maremma, Cala Violina and Cala Martina, and towns full of attractions.
Treading along all these beutiful places you will probably make up your minds: it's impossible to see all this in just one summer!