Florentine Historical Soccer Match: a tradition over five centuries long
Beginning in the second half of the XV century, Florentine Soccer slowly disappeared during the 18th and 19th centuries. The beginning of the modern age of Florentine Soccer dates from May 1930, when, during the 400th anniversary of the siege of Florence by the armies of Carlo V, the then fascist governor Alessandro Pavolini, organized a pageant and football tournament between the four different quarters of Florence. Since then, the Florentine Historical Soccer Match has continued to be the most important historical of the cities celebrations.
Historical Soccer matches used to only be played during the Carnival period, but as the popularity of it spread throughout the entire population, it began to be played daily played in Florentine squares and gardens. The most famous match was the one played on the 17th of February of the 1530, when the Florentine population showed courage and nonchalance by playing soccer in Santa Croce square, while the armies of Carlo V besieged the city. One other strange and rare match in the history of the Florentine Historical Soccer was the one played in the winter of 1490 on the frozen Arno River.
Ancient struggles and traditions: four different teams for the four different quarters of the Capital City of the Renaissance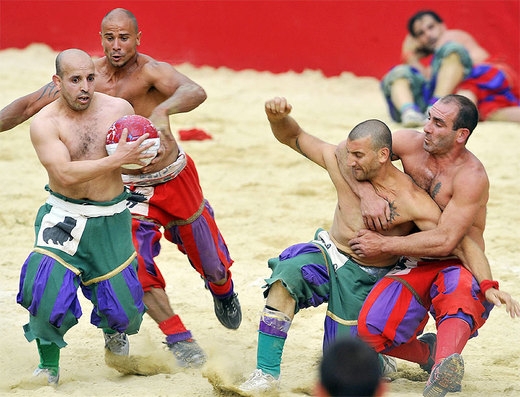 Florentine Historical Soccer:a cross between soccer and rugby and a game that even today follows ancient 16th century rules
Florentine Historical Soccer tries to follow the original16th century rules, when the game was played by the younger Florentine population, of all classes, as well as by nobles and other villagers. The match has a duration of 50 minutes and was played on a rectangular "pitch" covered by sand. Two teams, each one composed of twenty-seven players, compete in this way. The teams are able to score goals or "caccia", as they are called in the Florentine dialect, by throwing the ball in their opponents net. Following the rules of Florentine Historical Soccer, if one player fails to score a goal and throws the ball outside the net, an half "caccia" is scored for their opponents team. The teams participating at the Florentine Historical Soccer are ones representing the four different quarters of the Florentine centre: the Whites of Santo Spirito, the Blues of Santa Croce, the Reds of Santa Maria Novella and the Greens of San Giovanni. The calendar of the Historical Soccer is comprised of three different matches: the two first matches are played on the 14th and 15th of June, while the final is playedon the 24th of June which is San Giovanni Day, the Patron Saint of Florence. It starts with a procession, known as a "corteggio", that starts at 4pm from Santa Maria Novella. The final match of the Florentine Historical Soccer tournament is played in the gorgeous scenario of Santa Croce cathedral. The winning team receive a Palio (a standard) and a "Vitella Chianina" - a whole cow of typical local Tuscan stock.
Tags: Firenze, CalcioStorico, Fiorentino, Calcio, PiazzaSantaCroce, arte cultura