The origins of Tuscan wine and food are in the ancient traditions of rural civilisations who have populated these areas for centuries.
This humble background is still evident in the typical regional dishes which represent a perfect balance between simplicity and sophistication. Only genuine, quality ingredients are used and elaborated with great skill to create celebrated dishes enjoyed in elegant restaurants or rustic "trattorias".
Tuscan enogastronomy is characterised by a strong link with the territory, reflected in the wide variety of local products. The food, the territory, the wines are part of an amazing experience
Tuscan wine and food: from the land and the sea
Tuscan wine and food is characterised by its strong link with the territory, demonstrated in its great variety, reflecting the changing landscapes and seasons. The typical cuisine consists of two main categories: from the "land" and from the "sea".
From the land
These typical dishes are the product of the farming population who used simple basic ingredients to create nourishing meals. Today, refined versions of these traditional dishes can be tasted, yet the simplicity and genuineness of the ingredients maintains the same.
Typical products include "chianina" beef, game, salamis, cheeses, tomatoes, beans and cabbage.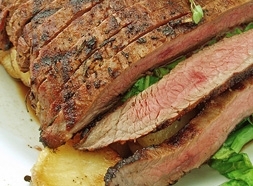 These are flavoured with delicate olive oil and accompanied by the precious red wines which are renowned the world over.
From the sea.
The coastal cuisine is naturally based on fish and seafood. Typical dishes include the famous fish stew known as "cacciucco"and mullet, which both originate from the town of Livorno, as well as risotto flavoured with cuttle fish ink. There are also numerous ways of enjoying freshly caught fish accompanied by an excellent glass of white wine.
Where to sample typical dishes
There are endless opportunities for trying traditional Tuscan products. There is no shortage of refined restaurants located in beautiful surroundings where expert chefs prepare unforgettable meals. For those who prefer a more simple and rustic location, there are endless trattorias to choose from, particularly in the small Tuscan hill top towns. Another way of tasting the region's typical products is to take part in the numerous local festivals which take place the whole year round, an excellent opportunity to get to know this unique territory close up.

The roads of wine and flavours: discovering the close link between Tuscan enogastronomy and the territory
Tuscan engastronomy is famous throughout the world for its genuine produce flavoured with delicate olive
oils and accompanied by precious wines. The typical cuisine is closely linked with the territory and the roads of wine and flavours which run throughout the region reflect this. By following these routes one has
the opportunity not only to wander through vineyards and visit cellars and producers of celebrated D.O.C. e D.O.C.G. wines but also to discover the beautiful artistic and natural treasures of this region.